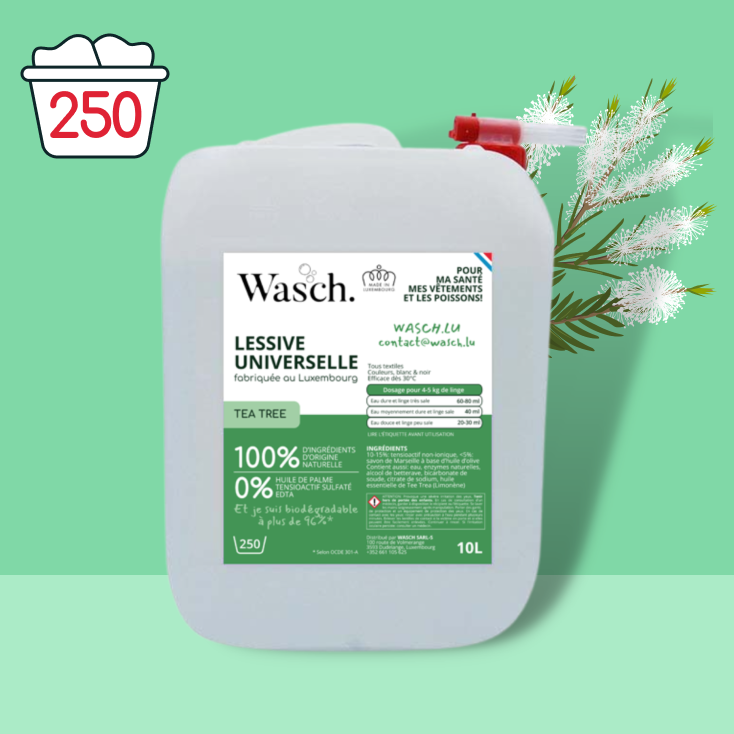 Tea Tree Bulk Detergent (10L)
✔️ Universal detergent (all textiles, colors, white and black)
✔️ Effective from 30°.
✔️ 100% natural origin, with the sweet scent of Tea Tree
Do you have an empty can to return?
Delivery is free.
Check the "I have empty bottles or cans to return" delivery option on your order page.
Satisfied or refunded
Delivery in 48 hours
100% secure payment
Composition: 100% transparent
In everyday language:
A foaming and cleaning agent based on coconut oil (without palm oil), authentic Marseille soap based on olive oil, natural enzymes to reinforce the efficiency, beet alcohol to disinfect, a natural sequestering agent, baking soda to fight against water hardness, and essential oils of tea tree for the perfume.
And on the label: 
5-15% : tensioactif non-ionique. <5% : séquestrants, savon, enzymes, huile essentielle (melaleuca alternifolia). Contient aussi : Eau, bicarbonate de soude, citrate de sodium, alcool.
Dosage
For a machine with 4-5 kg of laundry:
Medium soiled laundry: 40 ml
Very dirty laundry and very hard water: 60-80 ml
Lightly soiled laundry and soft water: 20-30 ml
Responsible packaging
To limit waste, we take back your empty cans, which we clean and reuse. In exchange, we offer you the delivery on your next order.
How does it work? When you place your next order on our website, check the delivery option "I have empty bottles or cans to return". We will inform our delivery man, who will pick up your empty cans when he drops off your new order.
Biodegradable formula
In Europe, no threshold of biodegradability is imposed on the detergent as a finished product.
At Wasch, we wanted to go further than the European regulation, and we called upon an external laboratory to check the biodegradability rate of our products. 
And what does it do? Our formula is over 96% biodegradable!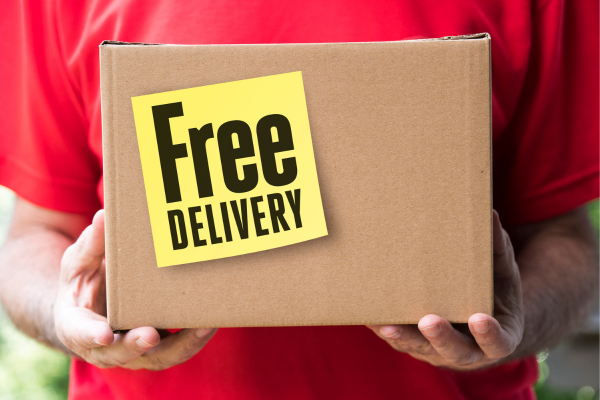 Do you have empty Wasch bottles or cans? We offer you the delivery.
To receive free shipping, check the "I have bottles or jugs to return" shipping option on your order page. This option is available for all orders of at least one 6-pack or one can.
We will inform our delivery person, who will collect your empty packaging when he drops off your order.